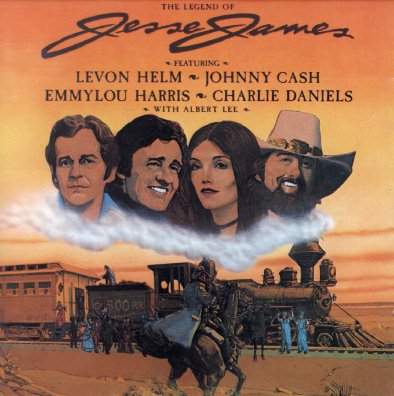 Download
Ahora que ha vuelto a la actualidad la figura del legendario OUTLAW del siglo XIX, al llegar a las pantallas de cine "El asesinato de Jesse James por el cobarde Robert Ford". Después de clásicos del cine como la versión del 39 con Tyrone Power y Henry Fonda, la de Walter Hill de 1980 "The Long Riders" o la curiosidad del 86 con Kris Kristoferson y Johnny Cash (como Jesse y su brother Frank) os queremos deleitar con este disco conceptual producido en 1980 por Paul Kennerly y con un elenco de intérpretes tal como Levon Helm (Jesse), Johnny Cash (Frank), Emmylou Harris (la mujer de Jesse), Charlie Daniels (Cole Younger), Albert Lee (Jim Younger), Rodney Crowell, Bernie Leadon & otros..
Un recuerdo a este Rebelde de Missouri y a su Banda. YeeeAAAAAAhh!!!
Como guinda un guiño del último trabajo de Levon Helm "Dirt Farmer", el asalto al tren- "A train robbery". Una joya que todo amante del country debe poseer.
Track-legend-list:
Ride of the Redlegs- Quantrill´s Guerrillas- Six gun shooting- Have you heard the news?- Heaven ain´t ready for you yet-Help him Jesus- The old Clay Country- Ridin´with Jesse James-Hunt they down- Wish we were back in Missouri- Northfield:the plan- Northfield:the disaster- High walls- The dead of me- The plot- One more shot. Y la guinda-A train robbery.